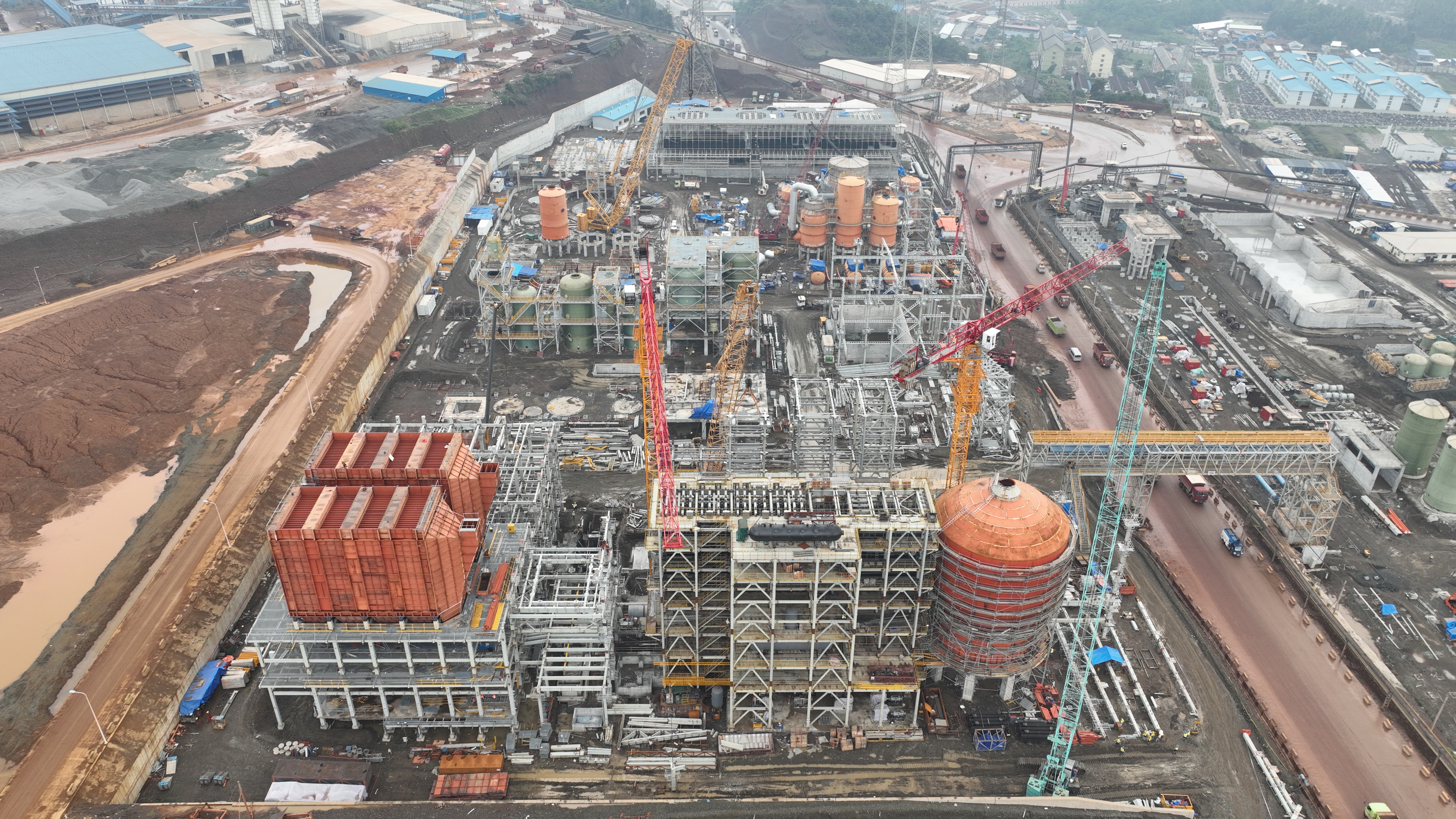 The AIM (Acid, Iron, Metal) project is a modern, integrated, and strategically located processing facility in the Indonesia Morowali Industrial Park (IMIP) in Morowali, Central Sulawesi, Indonesia. The project has access to existing infrastructure and is in close proximity to future acid and steam off-takers, serving downstream players in the Electric Vehicle value chain.
The AIM project is operated by PT Merdeka Tsingshan Indonesia (MTI), a joint venture company owned 80% by PT Merdeka Battery Materials Tbk (MBM), a subsidiary of Merdeka, and 20% by Eternal Tsingshan Group Limited (Tsingshan), a subsidiary of Tsingshan Holding Group.
The AIM project, which is currently under construction, will operate a concentrator for extracting pyrite concentrate, an acid plant, chloridising roasting plants, and a metal extraction plant. The layout has been optimised to ensure capital and operational savings over the life of the project. The AIM plant is designed to treat spent ore and low-grade pyrite ore from Merdeka's wholly-owned Wetar Copper Mine (Wetar) at a nominal rate of over 1Mtpa per year. The ore will be transported in open barges from Wetar Island to IMIP port and transported to the AIM plant for further processing to produce a suite of products including sulphuric acid, saturated steam, iron ore pellets, copper sponge, lead-zinc hydroxides, gold doré, and silver.
Since 2018, Merdeka has investigated opportunities to realize additional value from the Wetar ore, as the existing heap leaching process only recovers a portion of the copper and does not recover any of the gold, silver, zinc, iron, and sulfur (a component of sulphuric acid) contained in the ore. As part of this initiative, Merdeka collaborated with Tsingshan to conduct metallurgical test work on the Wetar ore as well as undertake a detailed feasibility study for the AIM project. The feasibility study was completed by DRA Pacific in March 2021 and confirmed attractive economics supporting the AIM project development. In Q2 2022, Merdeka, together with technical consultants, further enhanced the AIM project operations by incorporating a furnace and small electro-refinery to convert the sponge copper product to copper cathode, significantly improving project economics.
As of April 2023, MBM owns 99.99% of PT Batutua Pelita Investama which owns 80% of PT Merdeka Tsingshan Indonesia, the manager of the AIM Project. As such, the AIM Project becomes an indirect subsidiary of MBM.
Construction of the AIM project is continuing with detailed design nearing completion, all mechanical and electric equipment purchase orders placed, and prioritised tender finalisation for pipes, cables, manual valves, and remaining steel structures. Site works continue to progress well in all areas, with the project currently on schedule to achieve first production in 2H 2023.