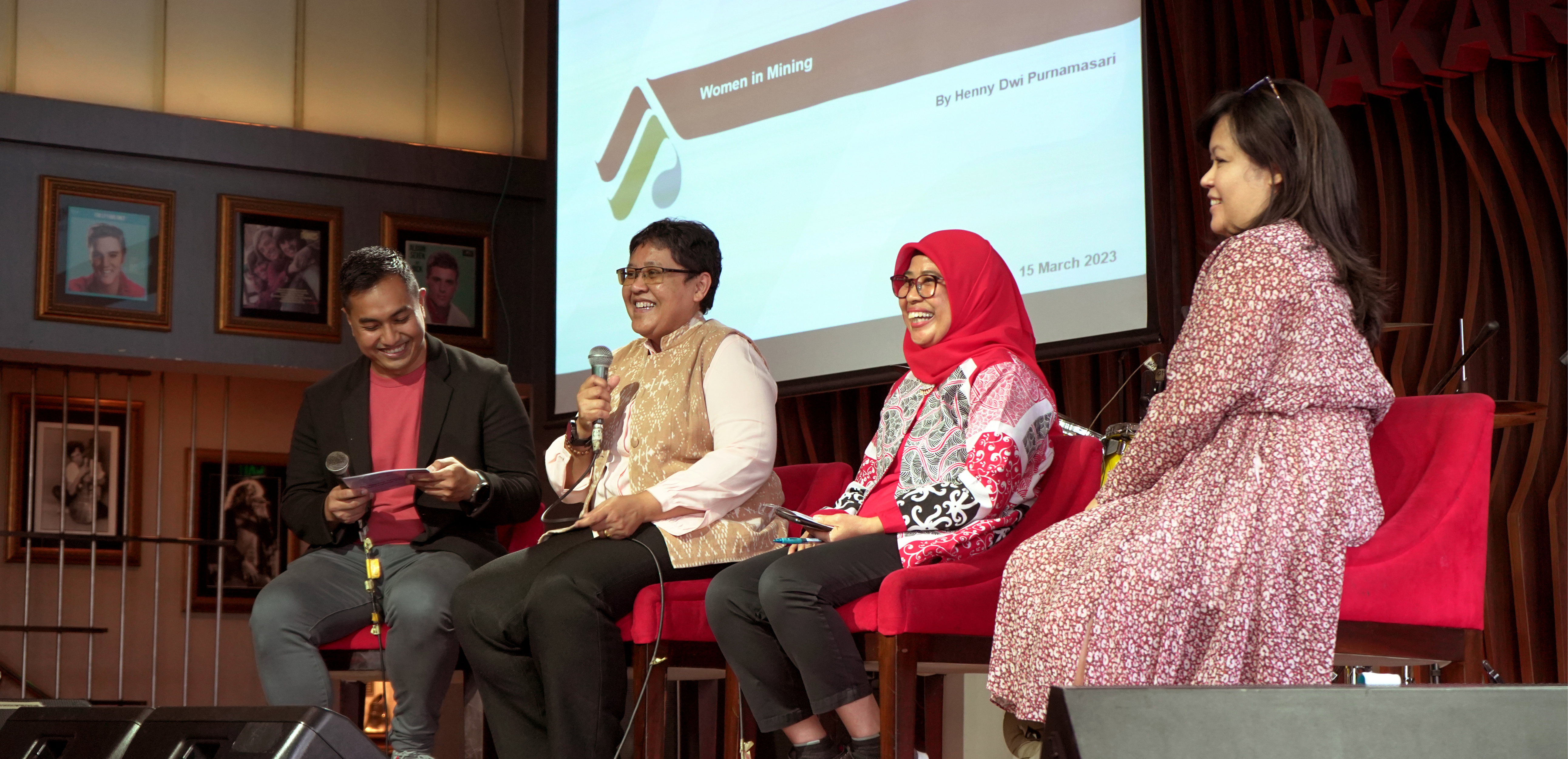 Diskusi Hari Perempuan Sedunia: Peran Perempuan dalam Pertambangan
"Dalam setiap diskusi, perempuan selalu memberikan sudut pandang berbeda," ujar Henny Dwi Purnamasari, Principal Tailings di PT Merdeka Copper Gold Tbk, saat menceritakan kariernya selama dua puluh tahun lebih di sektor energi dan pertambangan—industri yang identik dengan laki-laki—sampai ia menjadi satu dari sedikit perempuan yang menempati posisi tinggi di sektor pertambangan Indonesia. "Kita," ujarnya kepada rekan-rekan kerja perempuannya, "punya peluang yang sama dengan laki-laki—tergantung seberapa persisten kita. Kenali diri kita sendiri mau jadi apa. Saya yakin dengan begitu tidak ada yang bisa membatasi perempuan di sektor pertambangan."
Sore itu, 16 Maret 2023, Henny merupakan satu dari tiga pembicara dalam diskusi yang merayakan Hari Perempuan Sedunia satu minggu sebelumnya. Diskusi Inclusive Mindsets and Challenging Stereotypes di Hard Rock Café Jakarta diadakan oleh Merdeka bekerja sama dengan Women in Mining & Energy (WiME), lembaga advokasi perempuan di sektor pertambangan dan energi.
Diskusi dibuka oleh Titien Supeno, Direktur Merdeka, yang sudah biasa terlibat dalam rapat-rapat eksekutif yang selalu dipenuhi laki-laki. "Ada dua jenis penghalang bagi kemajuan karier perempuan," ujarnya, "individual dan institusional."
Sebagai institusi, Merdeka serius mewujudkan komitmennya mendukung pemberdayaan perempuan. Jumlah karyawan perempuan Merdeka terus meningkat dan menduduki beragam posisi, dari operator alat berat, manajer eksplorasi, sampai direktur. Per 22 Februari 2023, ada 623 karyawan perempuan di Merdeka, 8,5% dari seluruh karyawan—naik terus dari 573, 305, dan 200 pada 2022, 2021, dan 2020.
Selain berbagai kebijakan dan fasilitas yang mendukung perempuan, Merdeka juga menyediakan sistem pengaduan pelanggaran yang antara lain menindak lanjuti pelaporan mengenai pelecehan dan kekerasan seksual. "Tugas saya sebagai manajemen antara lain adalah melindungi pekerja perempuan," ujar Titien. Mengenai penghalang individual, ia menambahkan, "Jangan sampai kita punya pemikiran yang justru mengerdilkan diri kita sendiri, karena kita sama mampunya dengan laki-laki."
Sesi dilanjutkan dengan sambutan Maya Muchlis, pendiri dan Executive Director WiME, yang mengharapkan Merdeka memiliki lebih banyak lagi pemimpin perempuan. "Karena kesetaraan gender bukan hanya masalah perempuan," tambahnya sebelum menyemangati diskusi yang akan berlangsung.
Selain Henny, dua pembicara lain dalam diskusi sore itu adalah Hikmawati, Sustainability Specialist, dan Balada Amor, Senior Mining Specialist dari The World Bank, bagian Energy and Extractives Global Practice.
Hikmawati berbagi pengalamannya menjalankan program pengembangan masyarakat lingkar tambang dengan pendekatan gender. Sudah banyak riset yang mengatakan bahwa pendekatan kesetaraan gender berkontribusi penting dalam pembangunan berkelanjutan. Tak hanya dalam lingkup perusahaan, tetapi juga masyarakat lingkar tambang. Pelibatan perempuan—yang lebih rentan terimbas dampak sosial dan lingkungan pertambangan—dalam program pengembangan masyarakat justru krusial karena perspektif perempuan mengenai pembangunan berkelanjutan lebih menyeluruh. Contohnya, menurut Hikmawati, usulan warga laki-laki mengenai program sosial lingkar tambang kebanyakan mengenai infrastruktur seperti pembangunan jalan dan jembatan. Pelibatan perempuan justru memunculkan kebutuhan esensial seperti air bersih dan kesehatan. "Keterlibatan perempuan dalam perencanaan pembangunan, baik dalam level komunitas sampai nasional," ujar Hikmawati, "bisa membuat semua pihak terwakili kebutuhannya."
Hal itu disepakati Balada Amor yang membahas isu perempuan dalam perspektif global. "Ketika ada suara perempuan dalam pengambilan keputusan," ujarnya, "pemberdayaan ekonominya lebih berhasil."
Seratus kursi yang disediakan untuk pengunjung sore itu terisi penuh oleh karyawan perempuan Merdeka serta perusahaan tambang lainnya, ditambah beberapa pengunjung dari WiME dan The World Bank. Diskusi juga diikuti secara daring melalui Zoom oleh karyawan Grup Merdeka dari berbagai lokasi tambang.
Setelah sesi paparan, para pengunjung dengan antusias mengajukan pertanyaan. Pertanyaan berkisar mengenai tips berkarier sebagai perempuan dan penggalian lebih lanjut dari pengalaman para pembicara, termasuk apa yang perlu dilakukan laki-laki supaya perempuan lebih nyaman bekerja di sektor pertambangan.
"Selama kita mendalami bidang kita, kepercayaan diri akan terpupuk seiring bertambahnya pengetahuan," ujar Henny, menanggapi pertanyaan soal tips berkarier bagi perempuan. "Kita perlu terbuka dan komunikatif dengan rekan kerja dan senior yang lebih berpengalaman dari kita—bertukar pikiran dan menyerap pengetahuan."
Setelah dua jam, acara selesai pukul lima sore. Dian Octavia, Senior Manager Sustainability untuk Merdeka Battery Materials, anak perusahaan Merdeka, berkata bahwa acara yang menunjukkan komitmen Grup Merdeka terhadap Equality, Diversity, and Inclusion ini sangat bermanfaat bagi karyawan Merdeka karena, "Mendorong perempuan untuk lebih berani angkat bicara dan lebih maju lagi," ujarnya.
Salma Hanifia, Supervisor Contract Merdeka, berterima kasih atas acara ini. "Sangat inspiratif," ujarnya, "terutama untuk kami para perempuan yang bekerja di pertambangan."
…