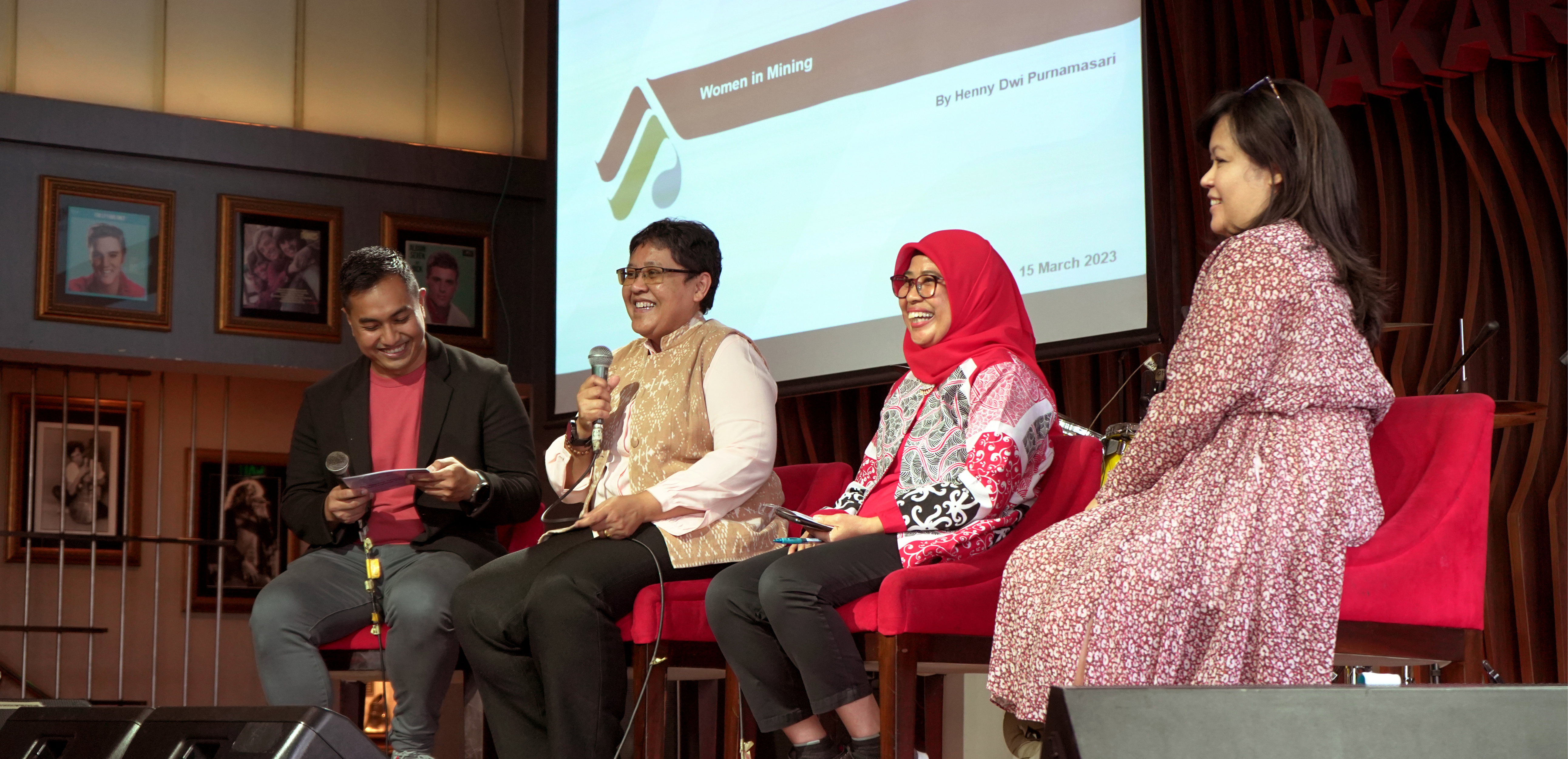 Discussion on International Women's Day: The Role of Women in the Mining Industry
"In every discussion, women always provide a different point of view," said Henny Dwi Purnamasari, Principal Tailings at PT Merdeka Copper Gold Tbk, when recounting her career spanning more than twenty years in the energy and mining sector—an industry that is mainly dominated with men—where she became one of the few women occupying high positions in the Indonesian mining sector. "We," she tells her female colleagues, "have the same opportunities as males—depending on how persistent we are. Get to know ourselves, and what we want to achieve. I am sure that nothing can limit women in the mining sector."
That afternoon, 16 March 2023, Henny was one of three speakers in the discussion that celebrated International Women's Day one week earlier. The Inclusive Mindsets and Challenging Stereotypes discussion at Hard Rock Café Jakarta was held by Merdeka in collaboration with Women in Mining & Energy (WiME), a women's advocacy organization in the mining and energy sector.
The discussion was opened by Titien Supeno, Merdeka Director, who is used to being in executive meetings which are always filled with men. "There are two types of barriers to women's career advancement," she says, "individual and institutional."
Institutionally, Merdeka is serious about realizing its commitment to supporting women's empowerment. The number of Merdeka female employees continues to increase and occupy various positions, from heavy equipment operators, exploration managers, to directors. As of 22 February 2023, there were 623 female employees at Merdeka, 8.5% of all employees—a steady increase from 573, 305, and 200 in 2022, 2021, and 2020.
In addition to various policies and facilities that support women, Merdeka also provides a whistleblowing system that includes grievances on sexual harassment and violence. "My job as management is, among others, to protect women workers," said Titien. Regarding individual barriers, she added, "Don't allow a mindset that belittles ourselves, because we are just as capable as men."
The session continued with remarks from Maya Muchlis, the founder and Executive Director of WiME, who hoped that Merdeka would have more women leaders. "Because gender equality is not only a women's problem," she added before encouraging the discussion that will take place.
Apart from Henny, two other speakers in the discussion were Hikmawati, Sustainability Specialist, and Balada Amor, Senior Mining Specialist from The World Bank, the Energy and Extractives Global Practice section.
Hikmawati shared her experience implementing community development programs around mines using a gender approach. There has been a lot of research that says that the gender equality approach is a crucial contributor to sustainable development, not only within the scope of the company but also within the community. The involvement of women—who are more vulnerable to the social and environmental impacts of mining—in community development programs is crucial because women's perspectives on sustainable development are more comprehensive. For example, according to Hikmawati, suggestions from male residents regarding social programs around the mine mainly were about infrastructure such as building roads and bridges. The involvement of women raises essential needs such as clean water and health. "Women's involvement in development planning, both at the community and national levels," said Hikmawati, "ensures that everyone's needs are represented."
Balada Amor agreed and discusses women's issues from a global perspective. "When there are women's voices in decision-making," she said, "the economic empowerment is more successful."
The 100 seats reserved for visitors that afternoon was filled with Merdeka and other companies' female employees, plus several visitors from WiME and The World Bank. There were other Merdeka Group employees from its operation sites who joined the discussion via Zoom.
After the presentation session, the visitors enthusiastically asked questions. Questions revolved around career tips for women and further exploration of the experiences of the speakers, including what men need to do to make women more comfortable working in the mining sector.
"As long as we improve our knowledge in the field, self-confidence will grow along as expertise increases," said Henny, responding to a question about career tips for women. "We need to be open and communicative with co-workers and seniors who are more experienced than us—exchanging ideas and absorbing knowledge."
After two hours, the event finished at five in the afternoon. Dian Octavia, Sustainability Senior Manager for Merdeka Battery Materials, a subsidiary of Merdeka, said that the event which shows the Merdeka Group's commitment to Equality, Diversity, and Inclusion is very beneficial for Merdeka employees because "It encourages women to be more courageous to speak up and grow," she said.
Salma Hanifia, Supervisor Contract Merdeka, was thankful for this event. "Very inspiring," she said, "especially for us women who work in mining."
…