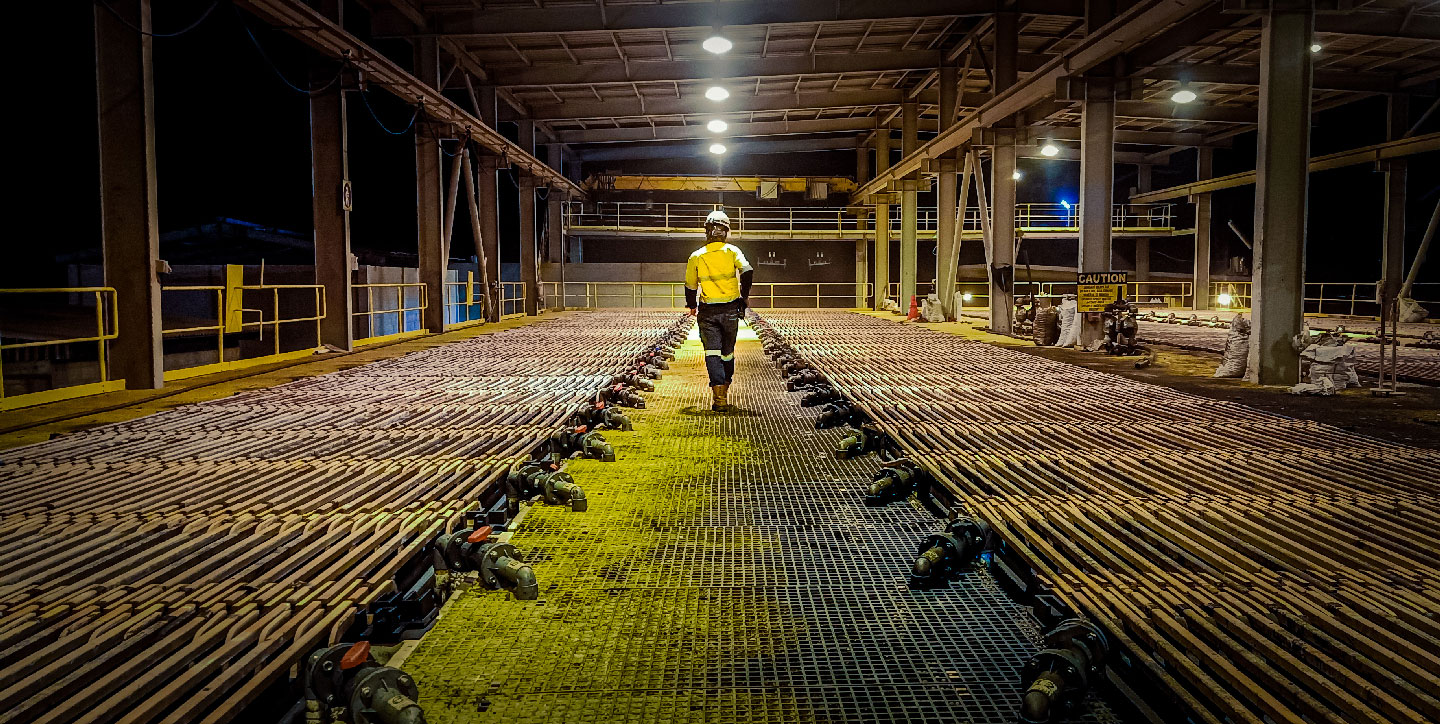 The Wetar Copper Mine is the only mine in Indonesia that directly produces and exports copper cathodes. The mine is operated by PT Batutua Kharisma Permai, holder of mining business permit for operation production of copper, gold and pyrite ores, and PT Batutua Tembaga Raya, holder of mining business permit for special operation production for the processing of mining products into copper cathode. The two companies (BKP-BTR) have been part of PT Merdeka Copper Gold Tbk since 2018 through the acquisition of Eastern Field Developments Limited, the majority owner of Finders Resource, an Australian mining company that previously operated BKP-BTR. The Wetar Copper Mine is located on Wetar Island, Southwest Maluku, and occupies an operating area of 2,733 hectares, about 1.07 percent of Wetar Island which has an area of 262,235 hectares.
As part of the Merdeka group that is committed to sustainable mining, BKP-BTR applies an efficient leaching method to extract copper content from the ore that is mined. Water consumption for mining operations originates from the Lurang River, with government permits and regularly monitored, is treated with a closed water system that recycles all the water needed for operations. BKP-BTR regularly monitors the quality of the environment: river and sea water near the estuary, as well as flora and fauna; and carry out progressive reclamation once each area is mined.
The presence of BKP-BTR on one of the remote island in Indonesia provides benefits for communities around the mine, especially in Lurang Village and Uhak Village. BKP-BTR provides electricity and clean water for 236 families in Lurang Village and 98 families in Uhak Village. In addition, BKP-BTR also employs more than 65 percent of the community around the mine and prioritizes local suppliers for operational needs. BKP-BTR also supports various social programs, from providing training, skills, and scholarships, to capacity building for local institutions and businesses, including the production and marketing of forest honey and cashews.
To take advantage of the remaining mineral content in the Wetar Copper Mine that naturally cannot be extracted into copper but still has economic value, Merdeka established the AIM (Acid, Iron, Metal) Project which will process the excess mineral content into battery raw material. The AIM project is run by PT Merdeka Tsingshan Indonesia which was founded by Merdeka and Eternal Tsingshan Group Limited and is located in Indonesia Morowali Industrial Park (IMIP), Central Sulawesi. The existence of the AIM Project will increase production and extend the life of the Wetar Copper Mine.
Wetar Copper Mine Emergency Response Team 2023