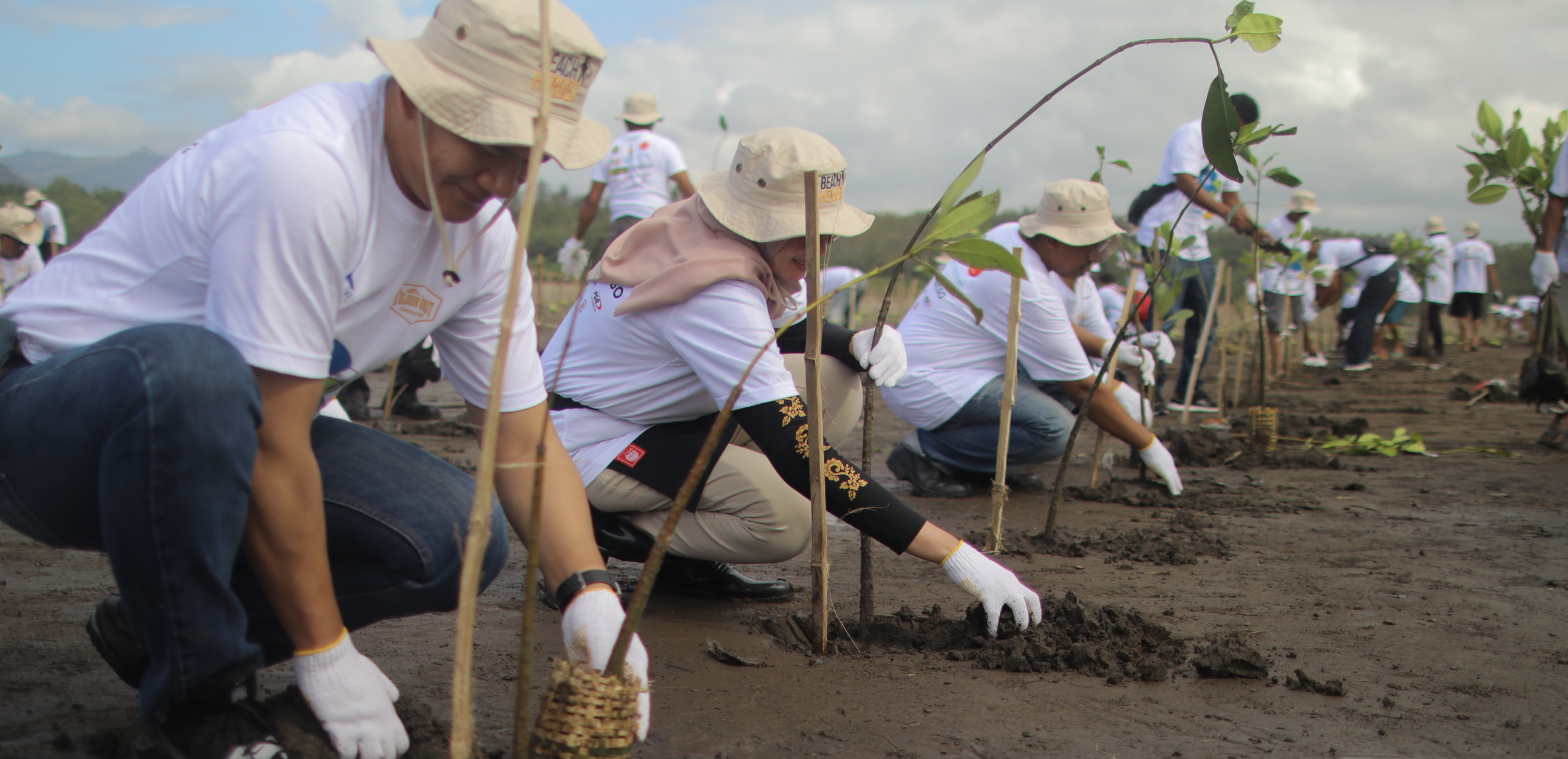 Merdeka Group Environment Month
PT Merdeka Copper Gold Tbk celebrates World and National Environment Day in a series of activities at its mining operations and projects for over a month. Commencing in June 2023, these activities signify Merdeka's commitment to minimize and rehabilitate the environmental impact of mining operations while also enhancing the quality of the surrounding area.
On Wetar Island, Southwest Maluku, the Wetar Copper Mine organized a beach clean-up activity coinciding with World Environment Day on 5 June 2023. Five days later, a beach clean-up was also held at Parang Semar Beach, Banyuwangi, East Java by PT Bumi Suksesindo (BSI), the operator of the Tujuh Bukit Gold Mine. This activity is part of the National Environment Day celebrations, coinciding in 135 locations across 37 provinces in Indonesia, held by the Ministry of Environment and Forestry (KLHK), with the theme of plastic pollution solutions, the same as World Environment Day. On that day, BSI and the local community successfully cleared Parang Semar Beach of 536 kg of waste.
Furthermore, BSI engaged over 400 individuals from various backgrounds in planting 2,023 mangrove stems on Parang Semar Beach. This activity is the result of cooperation between BSI and Perhutani, the East Java Forestry Service, and the Environment Service and the Natural Resources Conservation Center in Banyuwangi. On June 4, 2023, 500 mangrove stems which are very important for this coastal ecosystem were also planted by the Pani Gold Project in the Coastal Area of the Panua Nature Reserve, Pohuwato Regency, Sulawesi.
These activities support the government's effort to restore 600 thousand hectares of mangrove forest. Apart from supporting the coastal communities' economy through the preservation of crucial habitats for small animals,
Mangroves serve as natural defenses against erosion and tsunami. Additionally, mangroves absorb four to five times more carbon than terrestrial tropical forests. As Indonesia possesses the world's largest expanse of mangroves, surpassing Brazil, Nigeria, Australia, and Mexico, which together with Indonesia comprise 50 percent of the world's mangroves, restoring mangrove plays a pivotal role in reducing global carbon emissions. The effort is in line with Merdeka's commitment to contribute to climate change initiatives.
In line with the commitment, Merdeka Group routinely engages in tree planting activities. During this environmental month, the Wetar Copper Mine planted trees in the Lerokis area of Wetar Island on June 1, 2023. Similarly, the AIM (Acid, Iron, Metal) Project planted trees at the Makarti, employees' camp.
The company also hosted various environmental events including webinar on the mining environment programs and educational campaigns on hygiene and healthy living for elementary school students by the Pani Gold Project. BSI's environmental activities which will extend until September 2023, encompassing initiatives such as an environmental awareness campaign for high school students, hatchling release, and coral transplants.
*