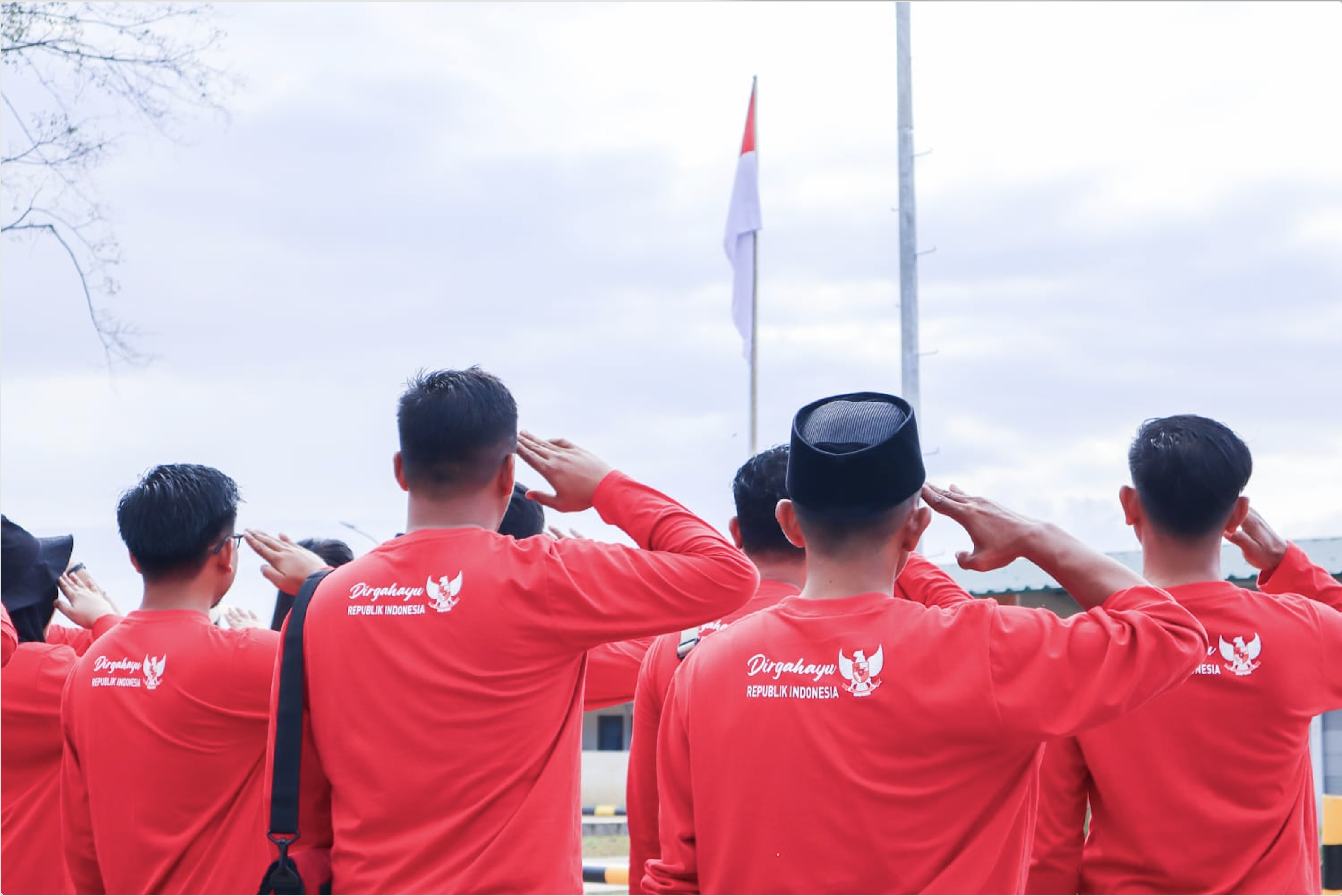 Independence Celebration: Embracing Freedom
The Indonesian independence celebration always brings joy to the employees of the Merdeka Group. It's a moment when the employees can be involved, interact, and collaborate in various exciting competitions.
At the Jakarta headquarters, starting a week before the celebration day, various activities are organized for the employees of PT Merdeka Copper Gold Tbk, ranging from traditional costume contests, pizza eating, to ping pong matches, PlayStation football, and various online games. There's also the Merdeka Talent competition with participants from various Merdeka subsidiaries spread across three islands in Indonesia.
At mining operations and projects, sports take the spotlight. At the Wetar Copper Mine, there are volleyball, ping pong, and badminton tournaments. At the Pani Gold Project, alongside futsal and chess matches, unique contests for the 17th of August celebration are held: inserting straws into bottles from the back and the most physically demanding in a short time: tug of war. While the announcement of competition winners at the Jakarta headquarters takes place on August 16th, 2023, in various mining operations and projects of the Merdeka group, the announcement is made after the flag ceremony on Independence Day, an event held annually at each operational area and project site.
This year is exceptional for PT Bumi Suksesindo (BSI), which manages the Tujuh Bukit Gold Mine and Tujuh Bukit Copper Project in Banyuwangi, East Java. This year, the independence celebration coincides with BSI's 11th anniversary, coupled with two significant achievements: gold production of 1 million ounces since 2017, and recording 20 million work hours without Lost Time Injury—a work-related injury that halts employee activities.
A number of senior management, directors, and commissioners are present among the employees, including Commissioners of PT Merdeka Copper Gold Tbk: Yoke Candra and Sigit Sukirno Sudibyo; President Director of BSI, Adi Sjoekri; General Manager of Operations (GMO) BSI, Roelly Fransza; and Deputy GMO BSI, Kieran Rich.
"We are confident that the improving company conditions will bring greater benefits to employees and their families, the surrounding environment, and of course, our beloved Indonesia," said Adi Sjoekri.
Apart from appreciating BSI's achievements, Roelly Fransza emphasizes the link between production achievements and workplace safety. He likens it to a situation where work without safety is a loss, while safety without work is wasteful. "The culture of safety is not just for our own well-being but also an expression of our love for our families," he added.
All employees, families, and associates of BSI enjoy various facilities, from children's playgrounds to diverse food stalls. The event is also enlivened by musical performances, including a showcase by the Kuwung Wetan traditional arts group.
Merdeka Group's various Indonesian independence celebrations simultaneously reflect the spirit of continuous growth through safety-focused collaboration, embodying the cherished values of Merdeka.
*