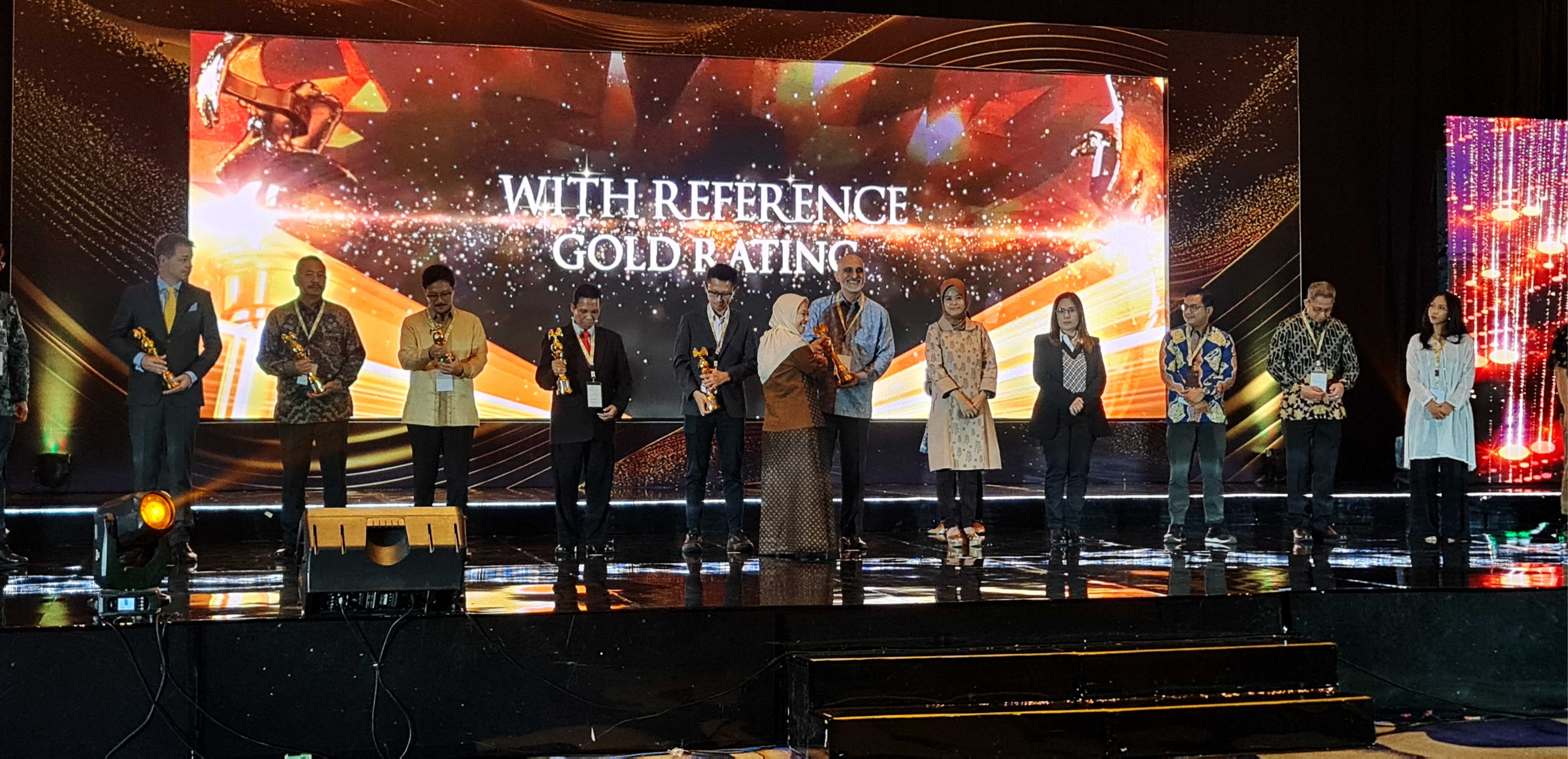 Berbagai Penghargaan Keberlanjutan Grup Merdeka
Laporan Keberlanjutan 2022 PT Merdeka Copper Gold Tbk meraih penghargaan Gold Rank atas kualitasnya dalam mengungkapkan kinerja, komitmen, dan strategi keberlanjutan. Penghargaan tersebut diberikan dalam Asia Sustainability Reporting Rating (ASRRAT) 2023, acara tahunan yang diadakan sejak 2005 untuk mendorong peningkatan kualitas laporan keberlanjutan perusahaan.
ASRRAT diselenggarakan oleh National Center for Corporate Reporting (NCCR), organisasi independen pertama yang menggunakan istilah dan mengembangkan "laporan keberlanjutan" di Indonesia. Diadakan di Hotel Raffles, Jakarta pada 6 November 2023, acara bertema "Navigating the Path to Net Zero: Accelerating Climate Action In Asia" ini diikuti oleh 68 perusahaan, termasuk yang berasal dari Bangladesh, Filipina, Australia, dan Rusia.
Tim penilaian ASRRAT 2023 terdiri atas lima juri dan 18 asesor tersertivikasi, yang menilai berdasarkan tingkat kepatuhan pelaporan terhadap standar Global Reporting Initiative (GRI), Peraturan Otoritas Jasa Keuangan Nomor 51/POJK.03/2017, dan GRI Disclosure Sector Standards. NCCR menetapkan empat peringkat laporan keberlanjutan, dari Platinum sebagai yang tertinggi, diikuti Emas, Perak, dan Perunggu.
"Kami sangat bangga kualitas Laporan Keberlanjutan Merdeka mendapatkan pengakuan dan penilaian tinggi dari NCCR," ujar Albert Saputro, Presiden Direktur PT Merdeka Copper Gold Tbk. "Penghargaan ini akan semakin meningkatkan komitmen kami dalam melaporkan kinerja keberlanjutan secara transparan dan dengan kualitas tertinggi."
Ali Darwin, Chairman Executive Board NCCR, berterima kasih kepada seluruh perusahaan yang berpartisipasi dalam ASRRAT 2023. "Dedikasi Anda terhadap transparansi, akuntabilitas, komitmen, dan inisiatif untuk mengukur dan memitigasi dampak lingkungan dan sosial sangatlah menginspirasi," ujarnya. "Laporan keberlanjutan Anda memberikan wawasan berharga mengenai kemajuan dalam mengurangi emisi, melestarikan sumber daya, dan mendorong keadilan sosial."
Penghargaan ASRRAT menjadi bagian dari rangkaian pencapaian keberlanjutan Grup Merdeka. Pada Agustus 2023, PT Merdeka Battery Materials Tbk, salah satu anak perusahaan Merdeka juga meraih penghargaan dalam TrenAsia ESG Award 2023 untuk kategori perusahaan nikel dengan predikat Action. Penghargaan tersebut merupakan pengakuan atas komitmen dan kinerja MBM dalam menerapkan prinsip lingkungan, sosial, dan tata kelola yang baik, serta pengembangan produk berkelanjutan untuk mendukung transformasi energi global.
Selain itu, sejak Oktober 2023, peringkat ESG MSCI Merdeka naik dari BBB menjadi A. Kenaikan peringkat ini membuat Merdeka menjadi satu-satunya perusahaan tambang Indonesia yang mendapat peringkat A dalam kategori Diversified Metals and Mining MSCI.
*


 Foto utama: Acara penghargaan Asia Sustainability Reporting Rating (ASRRAT) 2023.